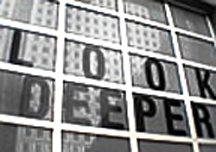 ART/LA
"Sent"
July 10-17
Reception: July 10, 7pm
Phonecam exhibit "Sent" takes a look at what happens when you send a dozen invited artists (including, strangely enough, Megan Mullally and "Weird Al" Yankovic) out into the world clutching Motorola V600 cameraphones.
The resulting images, of course, are only the starting point.
Phonecam images...Postcards? Indie news coverage? Frivolous novelty? Necessary cultural evolution? Updated version of 'gimmee your digits'? Invasion of privacy?
Or...art?
"Sent" exhibition co-curator Caryn Coleman gives us her take:
The premise of the show is essentially this: as phonecams become an everyday accessory, how will this immediate accessibility to take pictures change the way everyday people aesthetically view the world around them?
And how will artists utilize and manipulate this new medium?
Technology has always been accepted by emerging artists. For instance, in the 1970s, artists like Barbara Krueger or Louise Lawler used photography in a very different way than just taking straight pictures.
Today, with phonecams, artists are able to document everyday performances, places and portraits in the blink of an eye.
I'd like to stress that the work being produced by phonecam shouldn't be strictly labeled "phonecam art", rather, I think that it's just a new form of photography.
THE SET-UP
All artists were provided with Motorola V600 cameraphones.
For the invited photographers (among them musician Cynthia Connolly, bloggers Mark Cuban and Warren Ellis, photographers Elizabeth Daniels and Clayton James Cubitt, a.k.a. "Siege", actress Megan Mullally, phonecam blogger Ruth Waytz and performer "Weird Al" Yankovic), we'll be printing out their images.
Phonecams currently produce low-res images so the actual image will be around two inches; paper size will be 4"x6".
For those who submit images to our open/online component to the show, we'll be displaying rotating images on four flat screens monitors.
All of the images, both
invited artists
and general public, will be available for viewing at sentonline.com.
ONE VIEW
Actual fine-art and professional artists and photographers have been asked to submit photos to this exhibition, so, as to whether or not the final product is art – that's a loaded question.
When a new medium is being explored, that age-old question of "is it art" is sure to come about, but with the artists' intent behind this project being to create artwork in a new medium, I would say that, yes, this can be considered art.
Why? The intent to create art is there and the product is visually significant.
"Sent" doesn't explore whether or not this is art but, rather, how [new technology] is used to create imagery.
As for restrospectives; as with most things, it depends on how good it is. For anything to have a retrospective, it has to have value.
If artists begin to use a phonecam in interesting ways, then there shouldn't be any reason why it wouldn't be museum worthy.
"Sent" is co-curated by Caryn Coleman and Sean Bonner (sixspace gallery, LA) and tech journalist Xeni Jardin. View images online, or at Standard Downtown. Free WiFi access is available throughout the hotel lobby area.
Find it: (Physical show location)
"Brunette" Room
Standard Hotel Downtown
550 Flower Street
Los Angeles, CA 90071
Get info: (213) 892-8080
Find more art events in the July 2004 issue of
"Arte Six"